Women's Member Groups and Leagues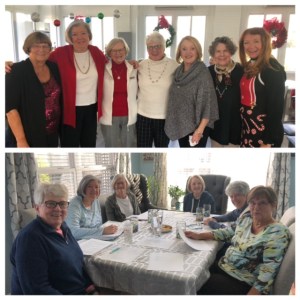 The Wildflowers is a women's golf group at Wildwood Green Golf Club that plays a scheduled game format of 18 holes each Tuesday morning of the months March through October. NEW FOR 2023 the Wildflowers will be adding two tee times on Thursdays.
The Wildflowers have been a part of Wildwood Green since 1975. Our starting time varies from 8:30am to 10:00am depending on the season of the year. We have a formal organization with a President, Vice President, Secretary, Treasurer and several other officers for special events. Our yearly membership fees are: $10.00 for dues, $5.00 for our Hole-In-One fund, and $5.00 for our Ringers fund ($20.00 total). 
To join our group, you do not have to be a member of Wildwood Green Golf Club, but you do need to have an established handicap recognized by the UGSA either at Wildwood Green or some other course. Wildwood Green's current greens fees and cart fees apply to play. Adult women of all ages and handicaps are welcome. When playing a game format, the max playing handicap allowed will be capped at 40.
Each Tuesday during our season we have a specific game, and each player puts $5.00 in the "kitty", along with a quarter ($0.25) for chip-ins.
We try to have a variety of individual play formats to accommodate all skill levels. We have tournaments with the men's group, The WildOats, called "Jack and Jill" tournaments, we have our own Member-Member championship, and every other year we hold an Invitational Tournament open to women golfers from other courses. We also occasionally travel to other local courses to play, and of course every year we have our annual holiday party. To sign up for a Wildwood Green play date, email teetimes@wildwoodgreen.com by 2:00 PM the day prior to play. For team games, the Golf Shop will determine foursomes using an A-B-C-D pairing format each week. For individual games, we will draw chips to determine foursomes.
Some of our fun golf side contests include Hole-in-One, Ringer, and our Birdie Tree. We consider our main goals are to have fun, get to know other women golfers, and improve our knowledge and skills on the golf course. We publish a newsletter each month during the season with the next month's schedule and club news or announcements for the group.
Come out and join the fun!
For General information, please contact:
President: Kay Reilly: kreilly30@gmail.com
Vice-President: Diana Repanich: d.repanich@comcast.net 
2023 Wildflower Tournament Dates:
Jack & Jill – May 9th
Memorial Tournament – June 6th
           Member-Member – September 19th
           Jack & Jill – October 3rd
           Holiday Luncheon – December 12th
---
The Wild Working Women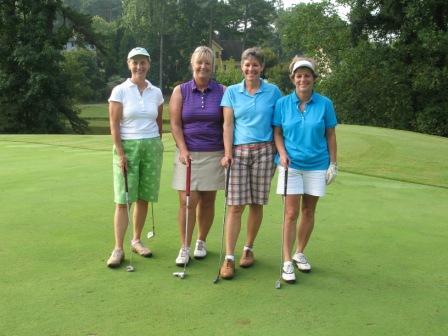 The Wild Working Women play a 9-hole match and stroke play competition on Thursday nights, based on a flex handicap (not necessary to carry a USGA index) to accommodate women who cannot play during the daytime or just want to get out and get in an "extra" round on a weeknight. Please contact the golf shop if you are interested in more information about the Wild Working Women's league.